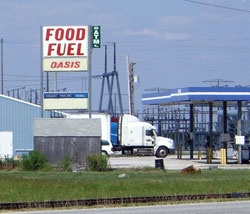 This was too good a photo to pass up coming out of the Farm Progress Show. This convenience store is on Hwy. 48 just north of Decatur, IL and less than a mile from what many people call the "Super Bowl of Farm Shows."
Somehow the title says it all. We can have food and fuel if we want to. If you could see the area around this store you'd see corn and soybean fields. It truly is an oasis of food and fuel!
The large annual farm show featured the products and technology from many companies who are working to make agricultural production more efficient not only to produce food but also fuel which will not only lessen our dependence on foreign oil but also improve our environment.