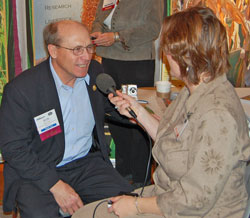 At last week's National Association of Farm Broadcasting convention, NCGA President Ron Litterer did a number of interviews including one with me about the farm bill.
In the picture Ron's being interviewed by one of the many farm broadcasters that came by the NCGA booth.
I asked Ron where things stand from a corn grower perspective. It was really dark in the room so I apologize for the quality of the video but it works. I'm also posting the audio of the interview separately for you.
Listen to Ron Litterer Interview here: [audio:http://corncommentary.com/wp-content/uploads/2007/11/nafb-07-ron.mp3]
Ron says he feels good that the Senate ag committee has put forward a revenue based proposal but that it would have been nice to see crop insurance integration included. Ron mentions the cloture vote that failed last week so it looks like it's time for some more debate after the holiday.