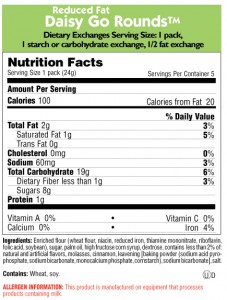 Editor's Note: This is the second of two posts reviewing comments made about corn and corn products in booklets distributed by the Girl Scouts of America. Click here for the first part.
For the past few years, people have been talking about high fructose corn syrup.  At the grocery stores, on television and even on Facebook, people seem to enjoy bashing HFCS.  When questioned, most cannot quite explain why they object to the corn based sweetener.  They may reference "some study" or spew off another half piece of misinformation, but the truth is clear.   A lot of people turn anti-HFCS because of propaganda and food elitist hype.
Now, even the Girl Scouts are buying into the hoopla.  In "Sow What? It's Your Planet-Love It!", the publication used for girls looking to learn about their food during their "senior journey," the Girl Scouts blast corn and corn-based products from livestock to ethanol.  Then, they join in the anti-HFCS melee too.
Noting that "corn sweeteners are full of calories but have almost no nutrients," the Girl Scouts broadly proclaim that "some critics argue that they shouldn't be added to our food."
First, there is never a mention of who exactly these critics actually are.  Not only are they not sourced, the manual does not explain what sweetener these critics support using in lieu of HFCS.  HFCS, sugar and honey are all nearly identical in composition.  They have the same nutritional value and add a similar number of calories.  So do these critics suppose that people cannot enjoy some sort of sweetened food, even in moderation?
The fact that the Girl Scouts publish a manual that brings up these sorts of questions boggles the mind.  Girl Scouts sell cookies.  It is a time-honored tradition for little girls to don uniforms and troop around the neighborhood, set up booths and send order form with parents to work to ensure that they sell as many cookies as possible.  The kids look forward to the prizes and adults anxiously await another box of Thin Mints.
The cookie sales system has turned into big business with sales averaging around $700 million per year. With so much at stake, the question actually becomes why would the Girl Scouts use so much corn in their delicious cookies if they do not believe in it as a product? Even the "reduced fat" cookies have HFCS and corn starch.
The manual claims that "with corn-fed poultry, corn-fed cows, and corn-fed farmed fish, the corn content of the U.S. diet can reach 58 percent.  That includes high-fructose corn syrup, a key ingredient in chewing gum, sodas, fruit drinks, and snack foods of all sorts.  It's also in hot dogs, margarine, and mayonnaise.  And then there's corn starch, a thickener and anti-caking ingredient."
While, again, they do not explain why, the Scouts do imply that corn's unique usefulness in food is negative.  Yet, looking at the ingredients listings on their most famous products show that, despite the rhetoric, the organization embraces corn products whole-heartedly.
The average Girl Scout cookie contains just less than three corn-based ingredients with the particularly delicious Peanut Butter Sandwiches containing a full six corn-based ingredients.  Frequently utilizing high-fructose corn syrup and corn starch, the organization profits from the cookies and places their logo upon each box.  So why, in this instance, are the corn products that they berate acceptable?
The Girl Scouts have historically been a charitable organization that fostered the skills and self-esteem of young girls.  They continue to do so.  But maybe they drinking too much of the media Kool-Aid with their cookies.
Facts are facts.  Corn provides an amazing resource for our country, high fructose corn is just like any other sweetener and those corn-laden Girl Scout cookies are perfect just as they are.