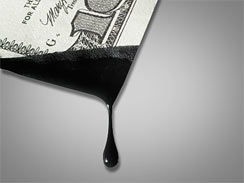 For years discovering how many perks, incentives and subsidies the global oil industry receives has been the Holy Grail of biofuels supporters. They are so numerous and come from so many places it is mind boggling, troubling and something akin to finding the Loch Ness monster. Thanks to Todd Neeley of DTN a hint of our true exposure is surfacing in part one of a new "must read" series.
This is critical information because consumers should know what their addiction to imported petroleum is really costing them and Big Oil has never been shy about bashing incentives for the domestic ethanol industry, the only real competition they face in the marketplace. They try to be-little the contributions of family farmers and the American ethanol industry that now produce as much ethanol as what we currently import from Saudi Arabia.
At the end of the day you have to question why a century old industry like oil, whose major players consistently rank in the Fortune 100 companies, conservatively receive 10 times the incentives received by ethanol. As Neeley says, "Using the most liberal definition of public financial support, including tax breaks on equipment depreciation and foreign investments, oil's total benefit from the public treasury can be as much as 10 times that of ethanol."
DTN's tally for state and federal tax incentives for oil comes to $17.9 billion annually. All told the tax deductions, credits and other public benefits the oil industry receives, U.S. taxpayers support oil to the tune of between $133.2 billion and $280.8 billion annually. "The comparable figure exclusively for ethanol is $7.1 billion. This does not include tax credits and other incentives that both industries share, such as the blenders' credit or VEETC"…or the roughly $7 billion to $28 billion in military costs to protect oil supplies. Let's not forget the White Elephant of lives lost either.
Interestingly, oil interests say they need the taxpayer largesse to do research and explore for more petroleum to continue our legacy of dependence. Makes you wonder what the impact would be if they invested the $200 billion oil says they spend on research in making ethanol more efficiently and from even more sources.
And as for oil exploration, I would rather invest my money in ethanol. . We know where farmers live and what their productive capabilities are when they are challenged to meet market demand. Eight record crops in the last eight years prove it.