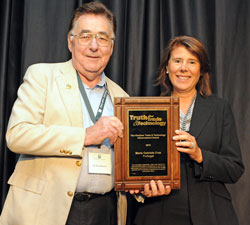 When you listen to my interview with Gabriela Cruz, Portugal, below you'll understand why she was chosen to receive the Kleckner Trade and Technology Advancement Award during the TATT Global Farmer to Farmer Roundtable. The program was sponsored by the NCGA. Gabriela was presented the award by Dean Kleckner, Chairman, Truth About Trade & Technology.

Gabriela Cruz is passionate about many things: the family farm that she and her sisters work and manage on the eastern border of Portugal; the use of soil conservation to combat the erosion that annually tries to steal their land from them; and access to the technology that will allow her to prevail in the future.
Those passions, and Cruz's drive to change attitudes of European governments that block farmer-access to genetically modified (GM) crops, led to her selection as the 2010 winner of the Kleckner Trade and Technology Advancement Award.
The award, given by Truth about Trade and Technology (TATT), seeks to recognize "strong leadership, vision, and resolve in advancing the rights of all farmers to choose the technology and tools that will improve the quality, quantity, and availability of agricultural products around the world."

You can listen to my interview with Gabriela here: [audio:http://www.zimmcomm.biz/ncga/tatt-roundtable-cruz.mp3]
TATT Global Farmer To Farmer Roundtable Photo Album