The food supply in this country is the safest in the world and agriculture needs to do a better job of letting people know that.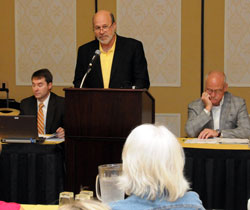 The chairman of the U.S. Farmers and Ranchers Alliance, American Farm Bureau Federation president Bob Stallman, gave an update on the organization's communications program at the recent Ag Media Summit.
Stallman says there will be six phases to the campaign and phase one has begun. "Phase one is about getting farmer and rancher alignment," which he says includes not only support of the effort but also a change in attitude. "We have to change our way of thinking and be willing to engage in a conversation with consumers, not just tell them what we think they need to hear."
"We haven't been very good at answering consumer questions. That's going to stop now," Stallman says. They plan to address those questions in a variety of ways including social media and "town hall" meetings which will kick off in September.
USFRA now has 49 affiliate organizations.
Listen to Chuck Zimmerman's interview with Bob from AMS here: Bob Stallman Interview