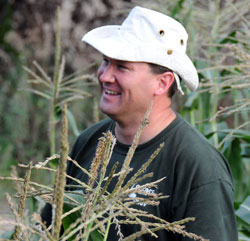 Getting $7/dozen for sweet corn in Canada is a pretty sweet deal for Channing Strom, owner along with his wife Amy, of Strom's Farm. Especially if you sell an average of 10-12 thousand dozen/year. This is a picture of Channing, who is outstanding in his field, during a visit to the farm by members of the International Federation of Agricultural Journalists (IFAJ). On this farm the Strom's grow sweet corn and pumpkins for people to come out and purchase. They promise that the sweet corn you buy is never more than two hours from the stalk! They also have a six acre corn maze using field corn and have a variety of other family fun features that bring out thousands of people to spend several hours of outdoor enjoyment. It is agri-tourism done right. You can see part of the IFAJ group taking the corn maze challenge in the photo below.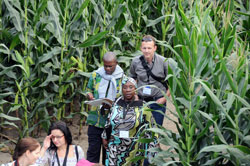 The Stroms are part of Taste Real, a branding initiative for locally grown food in the Guelph Wellington area.

When you see the taste real logo, you know that you are experiencing food grown close to home! When you see the logo at farmers markets, farm gate stalls, on-farm stores, at your favourite retail outlets, restaurants and places to stay you will know it is home to real local food. The brand exists to support local businesses and farms and represents a group of people who are ….Passionate about the way local food is grown, prepared, presented and enjoyed, and how real it tastes!

You can listen to my interview with Channing here: Channing Strom Interview
After touring the farm the Strom's served a dinner that included fresh picked and boiled sweet corn. It is definitely some of the best I've ever eaten. Having more than one ear was desert for me!