2011 was a wild year for farm market prices and ag economists generally expect that to continue into 2012.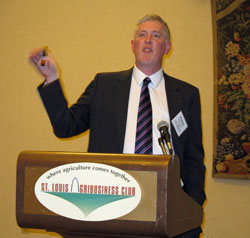 "We had a lot of things that came together and pushed prices up for a wide variety of products the last couple of years," said Patrick Westhoff, Director of the Food and Agricultural Policy Research Institute (FAPRI) during a visit at the St. Louis Agribusiness Club. "We expect a lot of volatility in the year ahead."
One of the main reasons is an "ordinary garden variety one" – the weather. "People tend to forget that sometimes," said Westhoff. On top of that, the biggest factors to consider are land markets and what Congress will decide to do with farm policy. No surprises there!
He notes that tight stocks will continue to keep corn prices particularly volatile. "Every little piece of news, either positive or negative, can make the market move around a lot," Westhoff added.
Westhoff believes that the spending cuts presented to the "super committee" by the House and Senate agriculture leadership should help start the conversation for a new farm bill in 2012, "but it certainly won't be the end of that conversation."
Listen to Chuck Zimmerman's interview with Patrick Westhoff here: Patrick Westhoff Interview