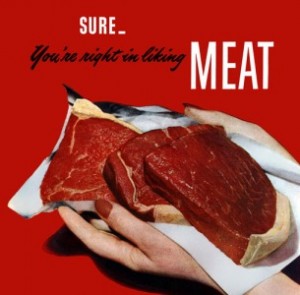 If something is mainstream, why bother defending it?  Popular logic would dictate that behaviors considered normal by the majority of society do not require an active defense.  Society relegates personal accountability for maintaining our cultural norms to elite academics and social leaders.
Action takes an investment of time, energy and emotion.  With so many tasks requiring daily, immediate attention, who has the time?
Right now, hopefully, many carnivores do.  The New York Times issued a call for essays explaining the ethical case for eating meat this week.  As the winning essay or essays will be published in the news industry heavyweight, a lot is on the line.
For decades, vegetarians and vegans have claimed the ethical high ground in the dietary debate.  Issuing carefully constructed diatribes on the fundamental question of if it is right to eat meat, this minority group has dominated the more bookish discussions underpinning something as fundamental as what people should or should not eat.
While the anti-meat minority has not parlayed its philosophical success into popular adoption of the tenets it espouses, a halo hangs over the heads of those willing to eschew their carnivorous cravings in many American minds.
Instead of blithely dismissing actual vegetarians as too malnourished to win a cultural war, carnivores need to take a stand.  Surely, many meat-eaters consider their consumption ethical.  It is time to climb the ivory tower and issue a proclamation of our own.
Entries are due by April 18 for consideration in the NYT contest.  So, take a moment to ponder while enjoying a pork chop.  Then, put pen to paper.
Silence is oft construed as an admission of the opposing side's superiority.  Send a message that meat-eaters make ethical dietary decisions.  It just so happens that they are delicious too.
While the New York Times will run only the essays it judges to be "the best", Corn Commentary also welcomes your submission.  Click here to send a copy of your submission directly to our bloggers.  Then, check back the week of April 23 to view a collection of the best submissions.