Along with the Christmas presents and cards, Santa delivered 2012 Census of Agriculture forms to some three million farmers and ranchers last week – but this one definitely needs to be returned.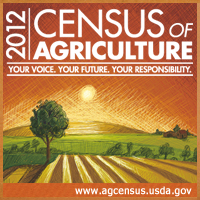 "We are asking that they complete it by mail or over the Internet and have it back to us by February 4 of 2013," said Renee Picanso, Director of the USDA's Census and Survey Division, who adds that the capability to respond by Internet is new this time around. "If you go on the Internet it skips through the questions, so it's really easier to fill out."
There will also be some new questions this year, including renewable energy and biomass production. "We're asking for more detail on whether farmers are using solar or wind, what type of energy, and on biomass, some of the crops they are growing to produce biomass," Picanso said. Other new questions this year address agroforestry, Internet use and horses.
Response to the Census is required by law, but Picanso says there are many other good reasons for producers to respond. "So many decisions are based on this data," she said. "It serves as a base for formulating farm policy, USDA programs and services are based on the data, rural communities use it in planning efforts, and agribusinesses use it when planning where to place transportation, grain storage and processing plants."
Picanso urges farmers and ranchers to send back the forms or fill them out on the Internet as soon as possible to avoid USDA having to follow up, which just takes more time and taxpayer dollars. Normal initial response is about half of all forms, with the majority returning them at least after the second mailing. "But in some cases we end up having to go out and actually hunt people down to get them to respond, and of course that is expensive and time consuming," she joked.
Even in the computer age, it still takes time to tabulate and analyze all of the responses to the Census, so it will be February 2013 before results are finalized. The Census of Agriculture is done every five years, the last one being in 2007.
I interviewed Renee about the Census during the NAFB Trade Talk in November: Interview with Renee Picanso