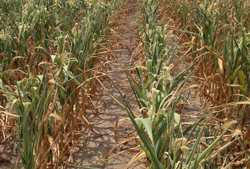 It is now official that 2012 was the hottest year on record, according to the latest National Oceanic and Atmospheric Administration (NOAA) State of the Climate report.
2012 marked the warmest year on record for the contiguous United States with the year consisting of a record warm spring, second warmest summer, fourth warmest winter and a warmer-than-average autumn. The average temperature for 2012 was 55.3°F, 3.2°F above the 20th century average, and 1.0°F above 1998, the previous warmest year.
According to NOAA, 2012 was record setting for 19 states, including several in the corn belt such as Illinois, Missouri, Nebraska and South Dakota.
While it was the hottest year on record, it was only the 15th driest year, with an average of 26.57 inches of precipitation nationwide. "At its peak in July, the drought of 2012 engulfed 61 percent of the nation with the Mountain West, Great Plains, and Midwest experiencing the most intense drought conditions."
The drought is continuing over into the new year, with USDA this week designating nearly 600 counties in 14 states as primary natural disaster areas due to drought and heat, making all qualified farm operators in the areas eligible for low-interest emergency loans. In 2012, USDA designated 2,245 counties in 39 states as disaster areas due to drought, or 71 percent of the United States.
Bottom line – we still need lots of rain and some cooler temps would be nice too.