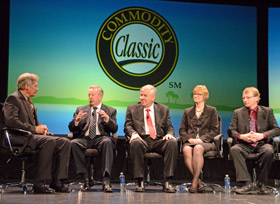 A highlight of the general session of Commodity Classic is moderator Mark Mayfield's "visit with the Presidents." Left to right are Mayfield, Terry Swanson, National Sorghum Producers; Erik Younggren, National Association of Wheat Growers; Pam Johnson, National Corn Growers Association and Danny Murphy, American Soybean Association.
The commodity presidents segment with Mayfield has become a tradition – but it's the first time a woman has ever shared the stage. Not likely to be the last as Pam has proven to be a strong and outspoken leader for the agriculture industry.
Listen to Pam Johnson's comments here: NCGA Pam Johnson
Listen to Danny Murphy's comments here: ASA Danny Murphy
Listen to Erik Younggren's comments here: NAWG Eric Younggren
Listen to Terry Swanson's comments here: NSP Terry Swanson
Following the individual remarks Mark then asked each group president to chime in on the relevance of rural America.
Listen to those comments here: Commodity Presidents on Rural Relevance