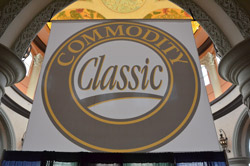 By all accounts, the 2013 Commodity Classic was a record setter. The semi-final numbers are amazing at 6,180 attendees, 3,024 of which were growers and 1,024 first time attendees.
"There are more new people interested in coming to Commodity Classic," said Ken Colombini, Communications Director for the National Corn Growers Association.

But not every farmer can make it to the Classic, which is where the agricultural media comes in to get the word out to everyone back on the farm. That makes the more than 150 reporters who attend the event very important. "We try to have a full service media center here," Ken said. That includes high speed internet access, audio and video feeds into the news room, and access to commodity group representatives. "Make sure that they are matched up with farmers when they want to do an interview."
The media room also includes food and beverages for the media and it is all thanks this year to DuPont Crop Protection, who was the sponsor of the Commodity Classic media room. Speaking as a member of the media, we sincerely appreciate the work that goes in to providing a well-equipped and staffed news room. It makes our jobs covering a huge event like this so much easier!
Listen to an interview with Ken from Classic here: Interview with Ken Colombini