Once again, Roseanne Roseannadanna comes to mind this week as farmers manage to almost catch up to normal in planting, but many in Iowa are looking at having to re-plant due to flooded fields.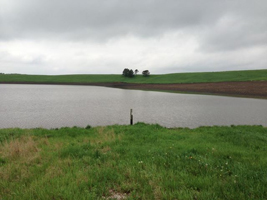 Iowa Secretary of Agriculture Bill Northey posted this photo on his Facebook page yesterday of an Iowa corn field. "Lots of corn in Iowa is swimming after the weekend rains," he wrote. "This week's forecast suggests replanting won't be happening for a while."
Iowa farmers planted another 14% of their corn crop last week, bringing the total so far to 85% complete, which is still about 14% below normal for this time of year. Nationwide, however, the total is now at 86%, which is down just 4% from the five year average. Emergence is also starting to catch up, with 54% out of the ground compared to just 19% last week, but down from the 67% average.
Meanwhile, soybean planting is plugging along, still about 37% behind normal. Another 20% was planted last week nationwide, 24% in Iowa – but this photo also from Secretary Northey's Facebook page shows that some of that planting was in vain.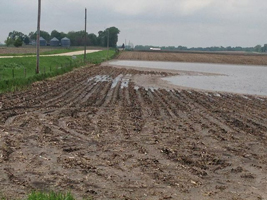 "Soybeans planted, but drowned out before they emerged," writes Northey. That field is located near Rembrandt, towards the northwest corner of the state. Iowa Governor Terry Branstad yesterday declared a disaster emergency in 13 counties in central and northwestern Iowa due to flooding.
This time last year the corn was growing like crazy – nearly 90% emerged – before the water shut off and the drought came. Like Roseanne used to say, "It just goes to show you, it's always something. If it's not one thing, it's another."