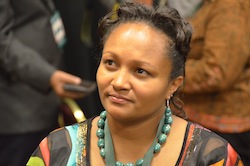 Behind this pretty, innocent face is the mind of a brilliant researcher who was honored last week at the World Food Prize for her work in helping to make the maize crop in Africa safer for animals and humans.
Dr. Charity Kawira Mutegi, a 38-year-old researcher from Kenya, received the 2013 Norman Borlaug Award for Field Research and Application in recognition of her efforts to find the cause and a solution to a 2004-05 outbreak of aflatoxicosis in her country which killed 125 people who consumed contaminated grain.
Dr. Mutegi is leading efforts for the development of a biocontrol product in Kenya that can be used to significantly reduce aflatoxin levels in maize by introducing naturally occurring non-toxic strains of the fungus, which have a competitive advantage over the strains that produce the deadly aflatoxin. The technology was developed by USDA's Agriculture Research Service and locally adapted for use in several African countries. The microbial bio pesticide she and her team are developing – "aflasafe KE01" – is affordable for farmers, is natural and environmentally safe, and once applied to a field, the effects last multiple growing seasons, making it extremely effective.
Listen Dr. Mutegi talk about her research during a World Food Prize press conference: Dr. Charity Mutegi remarks
2013 World Food Prize photos