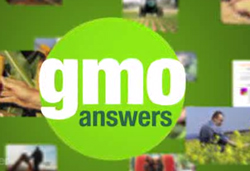 The purpose of GMO Answers is to – well, answer questions about genetically modified organisms (GMOs).
The group, which consists of all the major crop protection companies and agricultural organizations, recently came out with a top ten list for consumer questions about GMOs that experts have been answering one at a time.

The top questions are:
1. If GMOs cause cancer
2. If GMOs are causing an increase in allergies
3. If big companies are forcing farmers to grow GMOs
4. If GMOs are increasing the price of food
5. If GMOs are contaminating organic food crops
6. Why long-term health studies aren't conducted on GMO plants
7. If GMOs are causing an increase in the use of pesticides
8. Why GMO companies seem like they are so against labeling GMO foods
9. If GMOs are contributing to the death of bees and butterflies
10. If livestock eat genetically modified grain, will there be GMOs in my meat
GMO Answers conducted a national survey to identify the top questions and reached out to scientists, farmers, doctors and other experts to provide answers. They are on question number 6 right now and you can follow them on Twitter at @GMOAnswers, where they tweet new answers as they are posted.
Here are my simple answers:
1. No GMOs do not cause cancer
2. No evidence that GMOs are increasing allergies
3. No one forces American farmers to grow anything they don't want to grow
4. More likely GMOs have helped keep food prices from going higher
5. GMO crops are subject to regulations aimed at preventing cross pollination of organic crops
6. Extensive long term studies have been done on GMOs and discovered no adverse health effects
7. GMOs have led to a definite decrease in pesticide use
8. GMO companies are not against food labeling as long as it is fair and non-disruptive
9. No evidence that GMOs are killing pollinators
10. No GMOs in meat from animals fed GMO grain
Did I pass the test?