Posted By Cindy April 12, 2013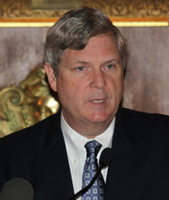 "I believe we will have a bill this year because we have to have a bill this year."
That's what Agriculture Secretary Tom Vilsack said to agricultural journalists meeting in Washington DC. While he is confident there will be a "food, farm and jobs" bill sometime this year, he's not sure about exactly when that might be. "I don't know when Congress is going to act," said the secretary. "I know what the ag chairs have said and that is that they're anxious to get started now."
That seems to be the general consensus among the policy watchers on Capitol Hill but that's just about the same thing that was being said last year at this time. The committees were starting to work and the industry was feeling confident that the work would be getting done before the 2008 bill expired in September. Obviously, it didn't happen.
Secretary Vilsack had two main reasons why we "have to have a bill" this year. "Producers need solutions and a five year plan to make decisions, but there are certain parts of the bill that will resolve sticky issues for us" the Brazilian WTO case regarding cotton being the primary example.
Of course, we had those same two reasons last year, but it was still okay to "kick the can" down the road for awhile. Hopefully it will be different this year. There has to be a point where the road dead ends.
Listen to Vilsack's remarks and Q&A from reporters here: Secretary Vilsack