Posted By Chuck August 7, 2012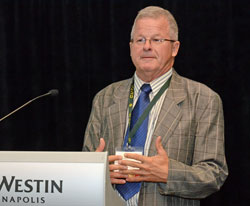 When it comes to mycotoxin research, one group at this summer's Corn Utilization Technology Conference really got down to the heart… or more accurately in this case, the kernel… of the matter. Charles Woloshuk, Ph.D. from Purdue University, chaired the discussion on pathogens that attack seeds. He explained it's a big issue because it affects so much of the corn trade. "If it goes overseas, [the contracts] are based on the level of toxins," adding that's it's always been an issue with feed, and ethanol producers are concerned that it would show up in their dried distillers grain (DDGs).
Woloshuk says the real problem is detecting the mycotoxin in the first place. "When we find it, we get concerned about it, but we can't predict it very well." He suggested rotating crops but realizes there's a lot of pressure to plant corn after corn. "We're trying to understand the kernel itself," and what are the critical factors influencing toxin production and how to stop it he concluded.
Listen to my interview with Charles Woloshuk here: Interview with Charles Woloshuk, Ph.D., Purdue University