John Deere may have cut its profit forecast for this year by 20 percent, but the company is still betting big on the nation's agriculture industry.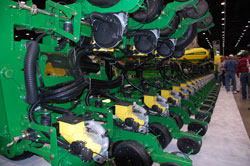 Deere officials said today that they expect the North American agricultural market to be their best this year compared to other areas of the world. During a conference call today, Deere CEO Robert Lane said that demand for large farming machinery has held up well largely due to the financial health of U.S. agriculture.
So well, in fact, that at last week's National Farm Machinery Show in Louisville, Deere unveiled the new DB120 - the largest planter in the industry. This bad boy is so big they couldn't even unfold it all the way in their huge exhibit space!
Rob Rippchen, division marketing manager at John Deere seed in Moline, IL says this 120 foot planter is the next generation planter building off the DB90 introduced five years ago. "This planter will plant somewhere between 90 and 100 acres an hour," Rob says. "Most growers will remember last spring when it was so wet and one of the easiest ways to improve productivity is to increase your working width."
Another company betting big on North American agriculture is New Holland, which had on display at the NFMS what they claim is the largest combine in North America - the new CR9080 with 523 maximum horsepower.
Ed Barry with New Holland, told me that it's not just horsepower that makes it the biggest, "It's the largest cab, largest threshing area and largest cleaning area."
Meanwhile, Case IH is also claiming the biggest combine title with its Axial-Flow 9120 at 483 rated hp. Just for good measure, Farm Industry News gave them both one of their 2008 FinOvation awards.
All will be on display at the Commodity Classic in Grapevine next week - you be the judge!