By Cindy
Posted: May 21, 2010
Post Update: The Brazilian ethanol industry's planned promotional event in Washington D.C. has been abruptly canceled, according to a news release.
First, they took over the IndyCar Series, after the U.S. ethanol industry worked hard to get the series to switch to 100 percent ethanol - now Brazil wants to take over our domestic ethanol market that has taken decades to develop to lessen our own dependence on foreign sources of energy. They've even adopted the "e" logo developed by the U.S. industry!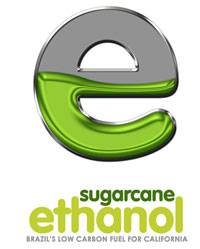 The Brazilian Sugarcane Industry Association (UNICA) is taking their promotion of imported sugarcane ethanol to Washington DC next week by offering a 54 cent per gallon discount on gasoline the Tuesday before Memorial Day at two Capitol Hill gas stations to draw attention to a 54 cents per gallon tariff on imported ethanol.
"The one-day discount will provide Washington area residents with a preview of how Americans across the country could save money at the pump if Congress ends this unfair import tax later this year," reads the UNICA release on the promotion.
Sugarcane ethanol has already gotten a boost from California's contested low carbon fuel standard (LCFS) which seems to give it an advantage over corn-based ethanol. UNICA is also using the Environmental Protection Agency's (EPA) designation of sugarcane ethanol as an "advanced renewable fuel" to promote their product.
With exports of U.S. corn ethanol on the increase and the ethanol tax incentive with the associated tariff on imports set to expire at the end of the year, the very real possibility exists that we could end up exporting our domestic fuel and importing foreign ethanol. That would kind of defeat the whole "energy independence" goal, doncha think?
Brazil has done a tremendous job of decreasing their own reliance on foreign sources of energy. As Growth Energy CEO Tom Buis puts it, "The only thing we should be importing from Brazil is their resolve to become energy independent."
The U.S. ethanol industry needs to take a cue from Brazil and become even more aggressive in promoting home-grown fuel. We have built a market here at home, we need to keep it.