By Cindy
Posted: August 23, 2012
While the Summer Olympics were going on in London, a gold medalist from the Winter Olympics was talking corn in Omaha at the American Coalition for Ethanol conference, thanks to the Nebraska Corn Board.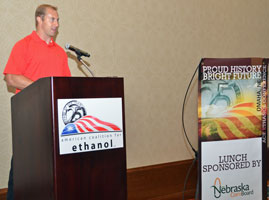 Curt Tomasevicz, a member of the 2010 U.S. Olympic 4-man bobsled team, grew up in a small Nebraska farming community and now helps promote corn in the Cornhusker State. "That agricultural-based community got me to the Olympics," Curt said of his hometown of Shelby, Nebraska, which boasts a population of 690. "I learned those lessons from those corn farmers that work hard every day, knowing that there's good days and bad days, good years and bad years."
Listen to Curt's remarks at ACE here: Curt Tomasevicz at ACE
In an interview with Curt, he told me why he is a spokesperson for the Nebraska Corn Board. "To have that kind of support coming from a farm-based community, the logical thing for me to do is try to give something back to them," he said. "Farmers are not competing for gold medals but at the same time they're working hard to produce something, like corn. They work just as hard, if not harder, than Olympians." Curt does personal appearances for the Nebraska Corn Board around the state at agricultural and civic events, as well as schools.
Listen to my interview with Curt here: Curt Tomasevicz interview
Kim Clark, director of biofuels development for the Nebraska Corn Board, was also at the ACE conference and she not only introduced Curt at the luncheon where he spoke, but she also gave an update on what they are doing to help get more blender pumps out in the state. "The corn board feels blender pumps are really important, especially for the state of Nebraska, since we are the number two producer of ethanol," she said, noting that they set aside $750,000 this year to help promote installation of pumps. There are nearly 20 in the state now and about 30 new pumps are expected to be installed within the next year.
One of their challenges is getting into the larger cities of Nebraska, like Omaha, where there are currently no blender pumps available. "With the new grant program of $40,000 per location, that has gotten a lot more retailers interested," she said.
Listen to my interview with Kim here: NE Corn Board's Kim Clark