By Cindy
Posted: November 27, 2012
The U.S Farmers and Ranchers Alliance has officially entered into its third year now, celebrating two years of making connections with consumers about food.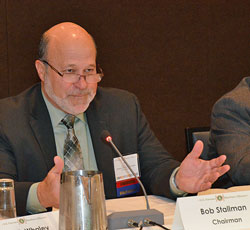 Stallman says USFRA just started with some of its initial programd 14 months ago. "We've made great progress considering we started from scratch," he said. "We're making great progress in engaging with consumer influencers … we've established a really robust social media platform for consumers and farmers and ranchers to have direct conversations." USFRA has also set up training for farmers and ranchers to learn how to interact with consumers on social media.
Moving forward, Stallman says they want to continue the successful efforts they have begun, including the Food Dialogues that have been held throughout the past year in major urban areas like Hollywood and New York City.
Listen to my interview with Stallman here: Interview with Bob Stallman
In conjunction with the Food Dialogues held in New York City, USFRA held its annual meeting and elected new executive committee members:
Chairman – Bob Stallman, American Farm Bureau Federation
Vice Chairman – Weldon Wynn, Cattlemen's Beef Board
Secretary – Bernard Leonard, U.S. Poultry & Egg Association
Treasurer – Dale Norton, National Pork Board
At-Large – Mike Geske, National Corn Growers Association
At-Large – Nancy Kavazanjian, United Soybean Board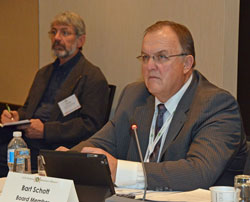 Going off the executive committee is former NCGA president Bart Schott of North Dakota, who says it has been a great two years. "We're really reaching an audience through social media that we've never really dreamed of," Schott said.
He was especially impressed with the Food Dialogues in New York and said he has learned a lot himself during the panels. "Having a Food Dialogue with panelists that balance each other out and talk about their side, whether it's right or wrong, just to talk about the issues and get them out there … for me it was a home run again," said Schott who adds that it is a great way to connect farmers and consumers.
Listen to an interview with Bart at the NY Food Dialogues here: Interview with Bart Schott