By Cindy
Posted: November 18, 2013
There was lots of corn commentating going on last week at the 70th annual National Association of Farm Broadcasting (NAFB) annual meeting in Kansas City.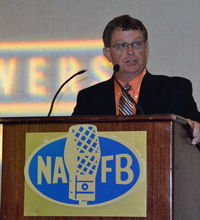 The National Corn Growers Association (NCGA) is a big supporter of the guys and gals who put farm news on radio and television stations and the internet. "It gives us the opportunity to get our message out to the public and to farmers," said NCGA President Martin Barbre.
NCGA sponsors the welcoming reception for the NAFB and then organization leaders do tons of interviews with the broadcasters during the annual Trade Talk, which is where I interviewed Martin about a number of topics, including but not limited to, the farm bill and WRRDA. Interview with NCGA president Martin Barbre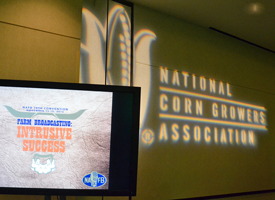 NCGA First Vice President Chip Bowling of Maryland was also on hand to chat with the broadcasters. He also talked about the farm bill, like everyone else, and about environmental regulations in his area around the Chesapeake Bay that are threatening agricultural producers.
It was especially interesting to farm broadcasters from the Midwest to get a different perspective on corn farming from a producer on the East coast. "In the Mid-Atlantic, we started planting corn right around the first of April, we had a good start and the corn crop just took off from the get-go and grew," said Chip, noting it was a lot different this year in the Corn Belt. "Obviously with 14 billion bushels coming off, somebody grew a lot of good corn."
Leah Guffey interviews Chip here: Interview with NCGA first VP Chip Bowling