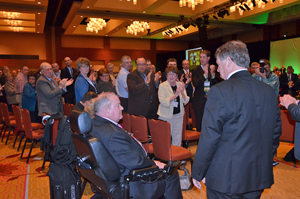 The National Corn Growers Association celebrated the long and productive career of a corn farmer, friend and industry legend last Saturday during the concluding Corn Congress at the Commodity Classic.
Jere White is retiring from the Kansas Corn Growers after leading that organization for a quarter of a century. During the Congress, he was presented with the Meritorious Service Award from NCGA and received a standing ovation from those present. Our friend had a serious motorcycle accident in September 2012, and while he has made a remarkable recovery from critical injuries, he recently decided it was time to pass the reins of the association on to someone else.
The new Kansas Corn CEO, pictured here with Jere, is Greg Krissek - who is both highly qualified for the job and a long-time friend. In his career, Greg has served as Assistant Secretary at the Kansas Department of Agriculture; Director of Operations at Kansas Corn and Kansas Grain Sorghum; Director of Government Affairs for ICM Inc. and, most recently was a manager at Kennedy and Coe, LLC. He has also served on many ethanol and agricultural association boards and on seven ethanol plant boards of directors.
So, Jere leaves the Kansas Corn Growers in capable hands, although he will never be replaced. Greg's a great guy and all - but I'm pretty sure we're never going to see him on a motorcycle, or dressed up as Dorothy from the Wizard of Oz!