There is an old saying…"make hay while the sun is shining." Dating back to at least 1546 this traditional farmer logic translates into grab opportunity while you can. This has never been truer regarding the nation's energy situation. A new report by the Energy Information Administration makes that abundantly clear. EIA says the greased pig fantasy of energy independence in the US is real.
We've reduced our dependence on foreign oil from 60 percent to 45 percent in the last few years. This is real, quantifiable progress brought on by smaller, high mileage vehicles, less driving due to a sagging economy, 15 billion gallons of ethanol capacity and domestic oil production on steroids.
Net oil imports to the U.S. could fall to zero by 2037 because of robust production in areas including North Dakota's Bakken field and Texas's Eagle Ford formation, according to this Department of Energy projection released this week.
Most days I am just numb about government studies and gasoline prices. I pull up to the pump, try to ignore the price and move on about my day. But there are other days too when I am angry about being held hostage by oil companies, and especially about their cavalier approach to crushing any real competition.
And that is exactly that they are trying to do with ethanol today.  So, here is a novel thought. Let's take this time of energy abundance to think big and invest in a more sustainable energy future rather than waiting until the wolf is at the door. Because, rest assured petroleum remains finite and the next generation will wonder why we squandered this brief respite from oil piracy.
Oil imports have fallen to about 5 million barrels a day from a peak of almost 13 million barrels in 2006, thanks in part to advances in techniques such as hydraulic fracturing and horizontal drilling in shale rock. Despite this, we continue to spend $1 billion a day protecting our assets in foreign oil. And there is no getting around that gasoline is bad for our health and the environment.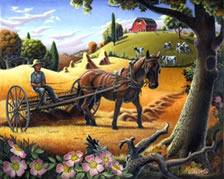 Now would be a great time to call your Congressman and Senator and ask them to show some vision regarding biofuels and our energy future. The rapid growth in ethanol production has shown us the promise of a bio-based fuel future. It's time to make hay!