By Cindy
Posted: March 6, 2015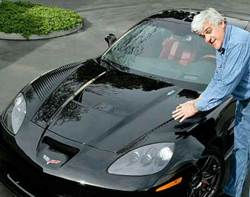 This picture from an April 2008 Popular Mechanics article written by former Tonight Show host Jay Leno shows him with a 2006 Corvette Z06 that he said "has a top speed of 208 mph and runs on a homegrown alternative to gasoline - cleaner burning E85 ethanol."
In this interview with DomesticFuel in 2007, Leno talks about biodiesel specifically but all renewable fuels in general about being good for America and agriculture. "We try to support companies that make products here in America," he said. "To me, it's a great thing to see people no longer losing their farms because they can't make a crop that's viable anymore …you support the farmers, they watch my TV show, I buy their products." 2007 Interview with Jay Leno on Renewable Fuels
Leno is a car enthusiast who has always supported renewable fuels, so his full-out attack monologue on ethanol this week in AutoWeek has to leave one wondering what inspired him to write it, since it has the distinctive smell of B.O. - that would be Big Oil.
Leno's attack is not only blatantly false, but mean-spirited.
I just don't see the need for ethanol. I understand the theory—these giant agri-business companies can process corn, add the resulting blend to gasoline and we'll be using and importing less gasoline. But they say this diversion of the corn supply is negatively affecting food prices, and the ethanol-spiked gas we're forced to buy is really awful.
The big growers of corn have sold us a bill of goods. Some people are making a lot of money because of ethanol. But as they divert production from food to fuel, food prices inevitably will rise. Now, if you don't mind paying $10 for a tortilla …
Say it ain't so, Leno. You seem like a basically nice guy we wouldn't normally think would stoop to criticizing farmers. So, what gives?
Since the thrust of the article is contacting Congress to reform or eliminate the Renewable Fuel Standard, it's a good guess that there is some big money behind it.
Syndicated car show host and technician Bobby Likis also thinks Leno's article seems uncharacteristic. "I cannot believe "what Jay said" is "what Jay really believes." His words smack of otherwise invested horse-whisperers who use personal agendas to sway vulnerable-for-whatever-reason people towards their way," says Likis in an editorial for the E-xchange Blog refuting all of Leno's claims.
I love the title to Bobby's counter article. With Leno's article titled "Can't we Just Get Rid of Ethanol," Bobby responded, "Can't We Just Get Rid of Ethanol Ignorance?" Can't we?