Posted By Chuck June 18, 2010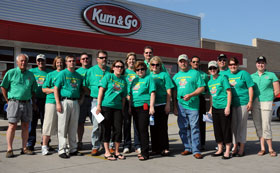 It's Indy race time in Iowa. The Iowa Corn Indy 250 will take place Sunday afternoon but there are a number of activities leading up to the only race of the season where the cars will be fueled with American made ethanol.
One of those pre-race activities was an E-85 pump grand opening at a Des Moines Kum & Go. On hand to fill up cars were members and staff of the Iowa Corn Growers Association pictured here.
Additionally, drivers Marco Andretti and Ryan Hunter-Reay (who will be in the Ethanol USA Team Izod Car) were there to sign autographs. I interviewed both of them and they had nothing but good things to say about ethanol.
You can listen to my interview with Ryan here:
You can listen to my interview with Marco here:
The drivers had a little fun for the camera before leaving when Marco drove the Iowa Speedway car up to a pump in true Indy Car driver fashion for Ryan to pump E-85 for him.