Posted By Cindy November 1, 2013
I'm still suffering from World Food Prize sensory and information overload. If you have never been to this event, you really should go. It is amazing to see and hear farmers, philanthropists, entrepreneurs and researchers from so many nations gathered together for the central cause of feeding people.
World Food Prize Foundation president Ambassador Kenneth M. Quinn says the event has grown so much from the first one-day symposium held in 1987. "We had more people registered this year for the symposium," he said. "After we got beyond 1200 I almost stopped counting because I wasn't sure where we were going to put folks!" In addition, there were 350 students and teachers at the event and over 700 attended the Iowa Hunger Summit earlier in the week, a new record.
Quinn marvels at what the World Food Prize has become. "We've been able to get to where people now say it's the Nobel Prize for food and agriculture, and some people say it's the premier conference in the world on global agriculture and one of the most unique programs to inspire young people," he said, adding that the Prize was sponsored by General Foods in the very beginning and taken over by Iowa businessman and philanthropist, John Ruan. Interview with WFP President Kenneth Quinn
The 2013 event brought speakers such as Former UK Prime Minister Tony Blair and philanthropist/farmer Howard G. Buffett who joined in announcing new initiatives to address conservation, hunger and poverty issues in Africa.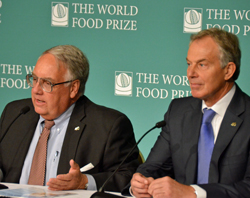 For one, the Howard G. Buffett Foundation has formed a partnership with John Deere and DuPont Pioneer to promote conservation agriculture adoption and support smallholders and sustainable farming in Africa. The effort will be piloted in Ghana and include a conservation-based, mechanized product suite developed by John Deere; a system of cover crops and improved inputs from DuPont Pioneer; and support for adoption and training on conservation-based practices by the Howard G. Buffett Foundation.
Additionally, Blair announced a collaboration between his Africa Governance Initiative (AGI), the Howard G. Buffett Foundation, and the World Food Prize Foundation to launch the 40 Chances Fellows program – inspired by Buffett's book, "40 Chances: Finding Hope in a Hungry World" – to encourage innovation in developing market‐based approaches that address food insecurity.
40 Chances Panel discussion
Blair and Buffett Press Conference
They tell me there were a handful of activists outside protesting the World Food Prize honoring of biotechnology, but I never saw them. What I did see inside was lots of positive energy focused on new ways and ideas to feed people. Not "the world" or a "growing planet" – it's about feeding PEOPLE in the best, most efficient, most productive and most sustainable ways possible.

2013 World Food Prize photos