Posted By Cindy February 10, 2014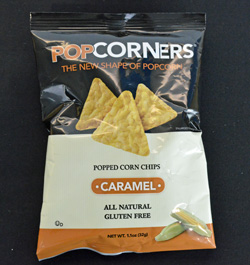 A new market for popcorn has taken shape in the snack food aisle – Popcorners.
Our Popcorners family proudly presents our wholesome, delicious new shape of popcorn to your family.
Here at Popcorners we have spent a great deal of time tasting, testing and perfecting what we genuinely believe will be a new generation of popcorn.
Now, take your time and enjoy all our classic and delicious flavors. We are going to be around to honorably carry on the traditional goodness of snacking on popcorn.
Popcorners flavors range from sweet to salty to cheesy – Caramel, Sweet Cinnamon, Twisted Salt, Sea Salt, Wisconsin Cheddar, White Cheddar, Cheesy Jalapeno, Kettle – and traditional Butter. They even have recipes for the new snacks for a new twist on meat loaf, tuna salad, nachos or noodle casserole.
What's not to like?