By Cindy
Posted: November 20, 2008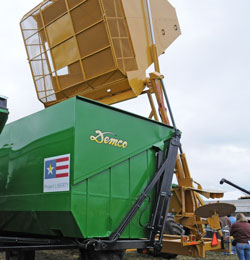 The new Vermeer corn cob harvester announced this week by the company was on display earlier this month at the cob harvesting event sponsored by POET at project LIBERTY in Iowa.
Vermeer says the CCX770 Cob Harvester new wagon-style cob collection system "will revolutionize corn harvesting by enabling farmers to harvest corn and cobs simultaneously."
The harvester is towed immediately behind select corn harvesting combines to collect and unload the cobs. While the main idea here is to harvest the cobs for cellulosic ethanol production, the company points out that there are many other uses for corn cobs, such as livestock feed supplement for mixed
rations, livestock and pet animal bedding, blending cobs with coal to co-generate electricity, gasification to create several types of energy for industrial processes and other industrial applications including
construction materials, abrasives and absorbents.