By Cathryn
Posted: April 20, 2012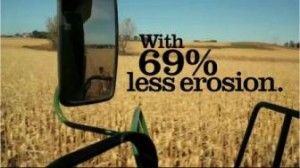 This Earth Day, a lot of people will gather in parks and at events across the country to both celebrate our amazing planet and look for ways to protect it.
In St. Louis, just a few miles down the main east-west corridor from the National Corn Growers Association's headquarters, concerned citizens and eco-enthusiasts alike will converge upon Forest Park, weather permitting, in droves to discuss a wide array of enviro-issues. In previous years, conversations tended to hold up food-related movements, such as those toward organics or locavore lifestyles, as models of how the eco-conscious should live.
This year, instead of dismissing these celebrations as agenda-driven vehicles for anti-ag activities, farmers and those who support them need to join the conversation. Attending events, participating in open forums and telling the story of modern American farming, growers can bring an informed, balanced voice in support of their industry to the conversation.
In many ways, be it through the U.S. Farmers and Ranchers Alliance or CommonGround, farmers have already learned about the importance of telling their story. Many have even practiced doing so. Earth Day marks a distinct opportunity to take a moment out of the field and actively cultivate public understanding and dialogue.
A new website featuring award-winning videos produced by the South Dakota Corn Growers Association and Utilization Council, www.trueenvironmentalists.com, reveals why farmers should value Earth Day in striking clarity. Using the example of their home state, the videos focus on how taking care of the land, air and water while increasing productivity provides hope. Hope that farmers will be able to help sustain a rapidly growing, hungry world. Watching the population counter tick up rapidly, thinking about the need to produce more food in the next 40 years than was produced in the last 10,000 years combined, it becomes obvious that we need to share the message of hope.
Take the time to share the incredible hope that farmers have for our growing world. Activists who would falsely accuse farmers of destroying the earth while promoting practices that would starve a constantly increasing segment of the population have already spun their yarn standing under the Earth Day banner for years. Let's take part in a day that celebrates the earth, air and soil central to the very core of every farmer.