Posted By Cindy March 13, 2012
Hog producers have adjusted to higher corn prices and can now even afford to pay more than ethanol producers for corn and still make money.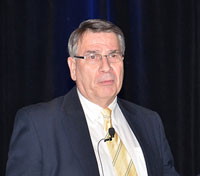 "This is an amazing difference from just five years ago," said Purdue agricultural economist Dr. Chris Hurt. "The hog industry was largely set up with $2-2.50 corn going into 2006. After that we saw major increases in those corn prices." Dr. Hurt spoke to swine veterinarians on the topic of "Global Feed Economics in a Biofuel World" during recent seminar put on by Boehringer Ingelheim Vetmedica (BIVI).
Hog producers initially absorbed those higher costs by reducing margins, which meant big losses and ultimately resulted in reduced supplies. "You reduce the supply enough, you bring those hog prices up. That's where we are today. Hog producers can pay $6-7 for corn with the prices they're getting for hogs," he said. "That up to $7 is higher than ethanol plants can pay for corn and still cover all their costs."
Dr. Hurt is certain that the days of $2 corn are over, but he does expect prices to moderate around $5-5.50 a bushel.
Listen to an interview with Dr. Hurt here: Dr. Chris Hurt
Dr. Steve Pollmann, President of Western Operations for Murphy-Brown, LLC also spoke at that same seminar about how the world's largest pork producer has adapted to higher corn prices. As the live production part of Smithfield Foods, Murphy-Brown has about 850,000 sows located in 12 different states and produces about 17 million pigs a year.
"We all know that feed is the biggest single cost of production," Steve said. "A 25 cent change in corn price per bushel, with that comes a $20 change in soybean price, all of the sudden you've got a $1.60 a hundredweight cost of production (increase)." He says the higher feed costs in the last five years or so have meant feed as a percentage of total production costs has risen from 60% to 70%.
Dr. Pollmann says Murphy-Brown adjusted to the higher feed costs by becoming more efficient. "When things get difficult, you've got to get better and if you don't, you die," he said.
Listen to my interview with Dr. Pollmann here: Dr. Steve Pollman, Murphy-Brown
Increased efficiency in hog operations has meant diversifying feed sources, and that has included adding more distillers grains (DDGs), the animal feed by-product of ethanol. Listening to the speakers at the BIVI seminar made me feel very hopeful that the days of animosity between the livestock and ethanol sectors over corn may actually be coming to an end.