Posted By Cindy December 17, 2013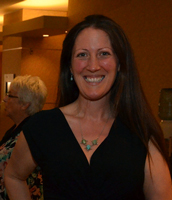 Dr. Jude Capper is a livestock sustainability consultant, professor of animal sciences, and a "bovidiva" according to her blog of the same name.
Last week she did a great post entitled "Activism 101 – How to Write Like An Angry Internet "Expert" on GMOs." An asterisk after the word "expert" points to a footnote:
*Note that being an "expert" does not involve education, higher degrees or being employed within the industry in question. Nowadays you can only be an expert if you are entirely impartial, third-party, and preferably know nothing whatsoever about the system in question. On that basis, I'm off to write a book about Zen Dentistry.
She offers nine points on how to write like an angry GMO expert, the final one being - "If all else fails, invoke the name of the evil that must be named….ahem, Monsanto. If you say it three times into a mirror, an ancient agricultural god will appear and wreak vengeance upon the earth. Honestly, I saw it on Oprah."
Jude is hilarious, satirical, and often outrageous and if so much of this blog post were not sadly true it would be a lot funnier.