By Cindy
Posted: November 15, 2011
Farm broadcasters on radio and television were advocating for agriculture long before anyone ever even dreamed of inventing the word "agvocate." Their numbers may have declined over the years, but the farm broadcast professionals who remain on the air every day talking about agriculture reach an enormous audience across the nation. They are literally on the front lines in the battle for the hearts and minds of the 98% who are not in the barns and fields providing food, fuel and fiber for the nation and the world.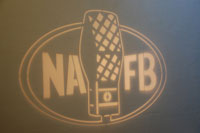 At the annual meeting of the National Association of Farm Broadcasting (NAFB) last week, about 100 of the nation's farm broadcasters were busy gathering interviews with representatives from agricultural companies and organizations that will fill the airwaves between now and Christmas, and by virtue of the medium, that information will be heard and seen by millions of non-farm listeners and viewers as well. Social media is a wonderful new tool to get up close and personal with the public, but farm broadcasters have been bringing the farm to the public since the first radio stations commenced operations in this country in 1920.
Back in the early days of radio, much of the airtime was devoted to agriculture, since a much larger percentage of the population was still directly involved in farming and ranching. Over time, that has gradually diminished to the point where even some of the most well-known powerhouses of farm radio - such as WGN in Chicago and WHO in Des Moines - have drastically cut back or even eliminated farm programming all together.
There has been renewed talk recently about the demise of local radio, with the nation's largest radio station operator making drastic cuts in local talent on its 850 stations. This makes it more important than ever for the agriculture community - including companies, organizations and individuals - to show their support for farm broadcasting. Whether it is a local farm broadcaster or even a network, farm programming is often the target of cuts - even if it is a source of significant revenue. Still, money does talk loudest, so financial support is crucial, but taking the time to send a note or an email of thanks to your local radio station that carries farm programming could make a big difference when decisions are being made.
Don't wait until the axe falls - send a note to the general manager of your local station today and just say thanks for keeping our advocates for agriculture on the air.