By Cindy
Posted: November 22, 2011
The end of the Volumetric Ethanol Excise Tax Credit (VEETC) is coming and the ethanol industry is prepared.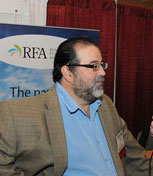 "The market place has changed," says Renewable Fuels Association president and CEO Bob Dinneen. "We're now looking at $85-100 a barrel oil on a sustained basis so it's difficult to go to the taxpayer and ask them to provide an incentive when the marketplace is already providing the incentive. We're the lowest cost liquid transportation fuel in the world today."
In addition, Dinneen says the ethanol industry itself has changed. "it's not your father's ethanol industry anymore. We are more efficient, we are utilizing new technology," he said. "It's an exciting time to be in the ethanol industry."
However, Dinneen would like to see the oil industry sacrifice its tax incentives as well. "They are hanging on to their subsidies to their dying breath," he said. "I hope at some point Congress takes a look at all the energy tax subsidies and decides to level the playing field." Dinneen notes that, unlike the ethanol tax credit which is temporary, oil subsidies are imbedded in the tax code and "will go on for all eternity until somebody steps up and rips them out."
Listen to an interview with Bob Dinneen here: RFA CEO Bob Dinneen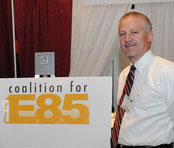 As the VEETC goes away, however, fuel retailers are concerned about what that means for the future of E85 so the recently-formed Coalition for E85 is working to have 85 percent ethanol designated as an alternative fuel under the tax code.
"E85 as an alternative fuel is defined everywhere in the U.S. code, except for the Internal Revenue code," explains tax code specialist Jeff Trinca, who is working with the coalition. That was because of the VEETC, to avoid "double dipping" in tax credits. "Now VEETC's going away and what we're basically saying is we would like E85 to be included in the definition of alternative fuels with propane, natural gas and others so there's a level playing field," Trinca says, noting that the coalition is only looking for a five year bridge to get the infrastructure in to be competitive with gasoline.
Trinca says they are working on getting a bill introduced in Congress to address the issue before the end of the year.
Listen to my interview with Trinca here: Jeff Trinca, Coalition for E85