By Cindy
Posted: May 7, 2014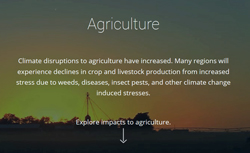 Agriculture is a big part of the new White House climate change assessment report out this week.
"Corn producers in Iowa, oyster growers in Washington state and maple syrup producers in Vermont are all observing climate-related changes that are outside of recent experience," the report states.
Immediately after the report was released on Tuesday, the administrator of the Environmental Protection Agency discussed it with members of the National Association of Farm Broadcasting meeting in Washington DC.
"It's a really good document in terms of focusing on the United States," she said. "In particular, it looks at the agriculture sector. It talks about the droughts and floods that we're seeing that have created challenges for our farmers and ranchers and to take a look at some of the ways the president's climate action plan can work collaboratively with agriculture to try and address those challenges more effectively."
McCarthy says when she talks with farmers and ranchers about climate change, it's not a debate. "We're talking about what we can do together to recognize the challenges and to provide the farmers the adaptive management techniques that will allow them to be successful… and allow them to address these challenges," she concludes. McCarthy climate change report comments