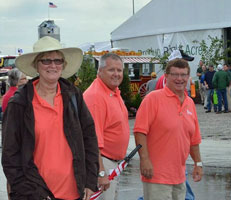 National Corn Growers Association officers were out in force at the 2014 Farm Progress Show in Boone, Iowa this week.
Right out of the gate on the first day I met up with NCGA chairwoman Pam Johnson of Iowa, First VP Chip Bowling of Maryland, and President Martin Barbre of Illinois. It was a soggy start to the show on day one, while day two was lovely, and day three looks to be a complete wash out.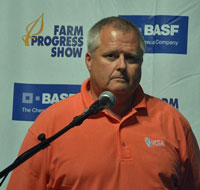 Chip stepped up to the podium in the media tent on day one to talk about our record corn crop in the fields this year. "We're keeping a close eye on corn prices and are greatly concerned about efforts in Washington that may reduce or stifle demand for corn and raise the cost of production," said Bowling, specifically noting the EPA's proposal to lower volume obligations for ethanol under the Renewable Fuel Standard (RFS).
Chip Bowling, NCGA comments on record corn crop
Interview with Chip Bowling, NCGA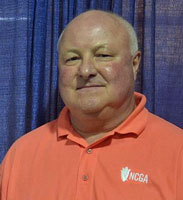 NCGA soon-to-be Vice President Rob Elliott of Illinois sat down with us to talk about NCGA's involvement in the American Ethanol NASCAR program which has had the popular racing platform running on 15% ethanol. "We've had about a four year program with Growth Energy and others to talk to 100 million NASCAR fans," he said. "NASCAR in its three levels has run over six million miles (on E15) which is the same number of miles EPA drove to prove E15 to be a good fuel!"
Listen to our interview with Rob here: Interview with Rob Elliott, NCGA