By Cindy
Posted: September 5, 2008
This trendy trash can is green in more ways than one.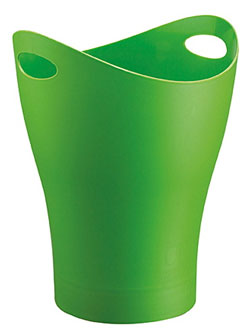 A winner of numerous design awards , the iconic Garbino garbage can from Umbra is now made with corn-based plastic. According to the Umbra website, "Over the years Umbra has designed products with sustainability in mind. We have taken the "Reuse" mentality and adopted a new approach that includes sustainable items like corn and plantation grown wood. Our new line of eco-friendly products promote our objective to provide contemporary, casual and affordable products that foster a healthy environment."
The 10-quart Garbino, and it's smaller desktop cousin the Garbini, were named among BusinessWeek's "Hot Green Products" earlier this year.
Umbra debuted the Garbino Trash Can in 1996, designed by Karim Rashid. "Known for its swerving rim, flowing curves and negative spaces, the Garbino brought glamour to trash cans. The Garbino, with a 10-quart capacity, remains a key part of Umbra's line; it is a core product that each year introduces Umbra's newest colors."
The trendy trash can does come in a variety of colors, but the eco-version is only available in green or black - and the price is pretty reasonable at around $6, but not real easy to find. I did find black ones in a few places, like here at The Container Store, but the greens are on back order.