Voilà (pronounced vwah-lah, of course) is a French term that literally means "See there!" - used in English to call attention to or express satisfaction over something. As in, "Take an ethanol plant, add corn, and voilà! - you have ethanol and high quality corn oil that can be used for biodiesel production."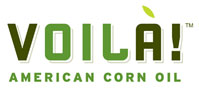 That's what POET has been doing with patent-pending technology at six different ethanol plants that by the end of this year will have produced enough corn oil to make 12 million gallons of biodiesel.
POET has been selling its branded Voilà™ corn oil into biodiesel and feed markets since January, with POET's plant in Hudson, South Dakota the first to produce it. The technology was installed in five additional POET plants this year, with more on the way in 2012. Plants that are producing corn oil today are POET Biorefining - Emmetsburg, Gowrie, Jewell and Hanlontown in Iowa. POET Biorefining in Laddonia, Missouri, will be the next to come online this month. The six plants' combined capacity is about 100 million pounds of corn oil per year.

"Voilà has been a very strong part of POET's business this year, and I'm excited to see more plants getting this technology," POET founder and CEO Jeff Broin said. "The more we can diversify into new profitable products, the more successful our plants will be."
Voilà is just one item on POET's growing list of products created at its plants. In addition to ethanol, POET produces quality products for animal feed including Dakota Gold distillers dried grains. POET also captures carbon dioxide at seven of its plants for sale to beverage producers, and the company last year unveiled Inviz, a zein product used to replace petroleum-based films and coatings.
"This is pretty exciting. We're producing energy as a by-product of energy," Broin said. "It's incredible to see how many different things we can get from a kernel of corn."
It is incredible, indeed!
Watch a video produced by POET about Voilà below: