By Cindy
Posted: February 26, 2009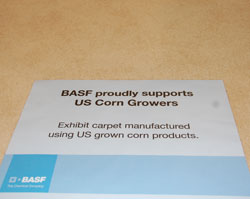 Some exhibitors at the Commodity Classic not only have new products to help corn growers be more productive, they also are showcasing new products made from corn.
Take the BASF booth, for example. They are showcasing a carpet in their exhibit made from corn polymers, and giving away plastic coffee cups made from 100 percent corn plastic, as Dan Westberg and Leon Duschene explain in this YouTube video.