By Cindy
Posted: October 11, 2011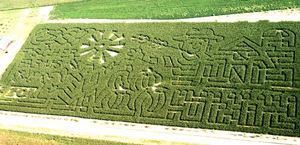 The Missouri Corn Merchandising Council (MCMC) is amazing fall visitors to corn mazes in the state with facts about the state's corn industry.
Entering its second season, the Missouri Corn fall promotion builds on last year's successful campaign in which weatherproof stop signs were featured in 25 corn mazes across the state. The 2011 maze materials continue the theme with yield signs answering some of the most common questions about field corn. Partnering mazes also received a free Many Uses of Corn poster and Corn in the Classroom education materials for visiting teachers.
"We want to help the next generation explore agriculture," said Missouri Corn Outreach Coordinator Hilary Holeman. "The goal of Missouri Corn's educational efforts is to help today's children better understand the relationship between our nation's top crop and its impact on our daily lives."
Taking it one step further, three corn mazes were selected to participate in a pilot program featuring a series of oversized displays highlighting the top uses for Missouri corn: feed, fuel and exports. The interactive exhibits invite visitors to post pictures to the Missouri Corn Facebook page for a chance to win $50 in free fuel.
The three mazes participating in this Missouri Corn pilot program are Fischer Farms Pumpkin Patch and Corn Maze, Jefferson City; Liberty Corn Maze, Liberty; and Beggs Family Farm near Sikeston. Be aMAZEd by corn!