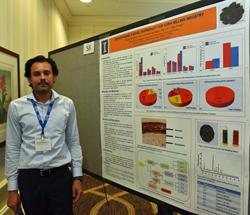 Pavel Samat is a Ph.D student at the University of Illinois at Urbana-Champaign. At the recent Corn Utilization and Technology Conference Samat was a contestant in the Gary Lamie student poster contest for his work with purple corn. His research focuses on using this purple corn to extract a healthy, economic alternative to synthetic dyes.
"Food and beverages currently are colored using synthetic dyes and they have detrimental health effects on people. And some of the synthetic dyes have already been banned because they are carcinogens. Red dye 40, which is predominatly used in the U.S. to make foods and beverages red is coming under a scanner because it makes children hyper-sensitive."
Instead the purple corn can provide not just a bright color, but is also very nutritious. And while it isn't quite ready yet, a team is also working to find ways to adapt this South American corn to the midwest.
You can listen to Chuck's interview here: Interview with Pavel Samat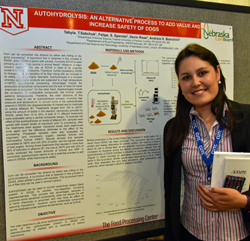 Tabyta Sabchuck was a winner in the Mycotoxin poster contest. She is a student at the University of Nebraska and her project was funded by the Nebraska Corn Board.
She has currently complete the first part of a multi-step process. It involved researching temperature and its effect on processing corn during ethanol production. You can hear her interview here: Interview with Tabyta Sabchuck
Check out pictures from the conference: 2016 CUTC Photo Album