By Cindy
Posted: February 13, 2012
Membership, leadership and communications were the main focuses of the biennial Membership Symposium for the National Corn Growers Association (NCGA) this past week in Kissimmee, Florida.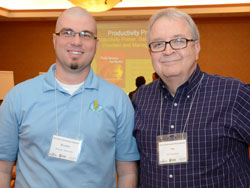 NCGA Director of Development Tim Brackman (right) says the meeting is a crucial part of the planning efforts for the organization. "It allows us to meet with the state staff as well as farmer leaders and recruiters who are out there in the trenches," he said.
Brackman says NCGA membership continues to grow. "I'm pleased to report that while many of the associations out there are experiencing flat or even declining membership, our numbers continue to remain strong. In fact, this past year in August, we hit an all-time membership high of over 37,000 members," he said.
Listen to an interview with Tim here: NCGA's Tim Brackman
The program featured a variety of topics for member services, including use of social media, something that Grower Services Action Team chairman Brandon Hunnicutt of Nebraska knows a little something about. "This is the key with the up and coming generation," he said. "You're going to reach out to them on Twitter, on Linkedin, on Facebook, or whatever the next one is."
Brandon says it's a great way to stay in touch with growers and others all over the country and he should know. You can follow Brandon, who is Chairman of the Nebraska Corn Growers Association and a fifth generation Nebraska farmer, on Twitter - @cornfedfarmer.
Listen to an interview with Brandon here: Brandon Hunnicutt interview