By Cindy
Posted: January 31, 2012
It's a bird, it's a plane …. it's a flying ear of corn!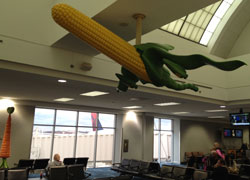 You can see this piece of aerial artwork at Gate E-16 in the Atlanta Hartsfield-Jackson Airport. It is one of a number of pieces that became a part of the international Concourse E at the airport when it was built in 1996 to make way for the Centennial Olympic Games.
"Each gate has a unique installation by an artist from the southeastern region of the United States," according to the airport website. "Peppered through the rest of the concourse are additional artworks and displays. As a result, Concourse E has the Airport Art Program's largest collection of permanent and site-specific art. We hope that passengers from around the world leave Concourse E delighted, intrigued and with a sense of the complex culture of the American South."
The flying corn is called "Corncorde" and the artist is Craig Nutt. "From Nutt's "Flying Vegetable" series, the design was inspired by jetliners. With its wings swept back, leaping into flight the corn is propelling upward to cruising altitude. This humorous work was hand-carved by Nutt from wood and painted to capture the details of this indigenous American crop.
To accompany the flying corn, Nutt created an air traffic control tower. Nothing is more appropriate to guide the "Corncorde" on its journey than a tower composed of a giant carrot and motorized spinning butter bean also made out of carved and painted wood."
The things you see when you travel …