By Cindy
Posted: April 10, 2012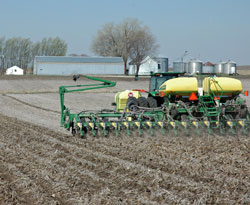 With corn planting running well ahead of schedule, speculation is running high about how much corn could be produced this year if the USDA's acreage estimate is correct.
Just a week or so ago, the USDA Prospective Planting report predicted that corn growers will plant nearly 96 million acres of corn this year - four percent more than last year and nine percent higher than in 2010. Using the five year average corn yield of 154.3 bushels per acre, that shows a potential 14.8 billion bushel crop!
"Certainly if we have a trend yield, we'll see record production and we should see substantial rebuilding of stocks," says USDA chief economist Joe Glauber. "We were calculating with even 94 million acres we would see almost a doubling of stock yields."
Glauber says they were actually pretty surprised by the significant increase in corn acreage intentions, but he reminds us that this is still just an educated guess at this point, since farmers were surveyed back in early March. "For some producers, they will plant that because they've already purchased corn seed, purchased fertilizer, they have their plans and barring any problems with weather, they'll get those acres in," he said. "But for some, they still haven't necessarily made up their minds and will be watching market prices over the next few weeks."
Those who have made up their minds are wasting no time getting their crop in the ground. Seven percent of the nation's corn crop is now planted - more than double normal for this time of year. Progress in some states must be record setting with double digits even in the Midwest. Missouri has 23% of the crop planted compared to the five-year average of 8% and Illinois is at 17% where just 3% is normal. Huge gains were seen from the previous week in states like Tennessee, which jumped from 15 to 46% planted in a week, while Kentucky went from 5 to 32%. Normally, only 10 of the 18 top corn states have corn in the ground by this time of year but right now only North Dakota and Wisconsin have nothing to report.