By Cathryn
Posted: June 11, 2012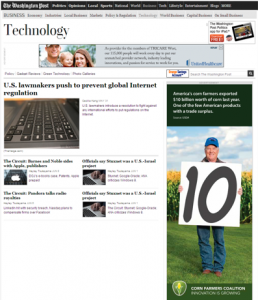 Have you ever heard about the Corn Farmers Coalition and wondered who actually sees this stuff?
Sure, the ads catch attention from a mile away.  Sure, the beaming family farmers, on their real farms, convey powerful, impactful messages about today's farm.  Sure, these ads appear to be something that would draw any normal reader into a short ag literacy lesson. But, where do people actually come into contact with them?
As always, the innovative minds behind the campaign have found new, thoughtfully selected venues that reach those outside of rural America want to find their information- where they already are.
This week, the campaign launched its fourth year with fresh faces and facts both in traditional venues, such as the DC Metro, and in other places that pack a punch, like the online version of the Washington Post.  The award-winning informational series has, yet again, even more finely honed its choice of channel to include the online news sites that, according to the papers themselves, have greatly impacted how Americans consume news content.
Like the stories covered by journalists, the Corn Farmers Coalition paints a clear picture of farming, an industry with which 98.5 percent of the population has little or no contact.  Like the feature stories, it provides answers to the questions most prevalent in readers' minds.  Like the hard-hitting exposes, it shows the truth, unbiased and in all of its glory.
Take a moment to check out what legislators, regulators, their aides and many other inquisitive inhabitants of our nation's capital will be checking out themselves this summer.  Then, join the featured families taking the voice of the corn industry to Washington with a letter on why real farmers, just like the ones in these ads, need a real farm bill in real time by clicking here.