By Cindy
Posted: December 4, 2013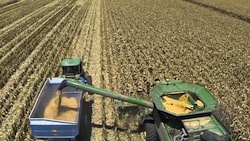 The 2013 harvest is considered completed at this point and the overall consensus is that it was a strange year that turned out well in the end.
Lance Honig with USDA's National Ag Statistics Service says it looks especially good compared to 2012. "Last year with the extreme drought, we'd be hard pressed not to be above last year," he said, adding that the growing season this year was certainly different than last year but no more normal. "What is normal these days? Nobody knows what a normal is."
Despite all the challenges that faced farmers this season, the nation's corn crop is on track to be a record high 14 billion bushels, according to the November crop production forecast, which was the final one of the season. "So the next report will be the final end-of-season numbers coming out January 10," said Honig. NASS is beginning the process this week of surveying some 80,000 farmers for that report "so we can capture that actual harvest information from them."
Leah Guffey interviewed Lance at the National Association of Farm Broadcasting annual Trade Talk last month: Interview with Lance Honig, USDA-NASS
Found this YouTube video from Cross Implement in central Illinois using Luke Bryan's Harvest Time to help celebrate this special time of year!