By Cindy
Posted: December 19, 2013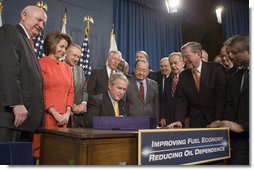 Six years ago today, President George W. Bush signed into law the Energy Independence and Security Act of 2007 (EISA), which greatly expanded Renewable Fuel Standard (RFS) to become the RFS2. The goals of the new standard were to reduce our dependence on oil, confront global climate change, and expand production of renewable fuels for the security of future generations.
To celebrate that anniversary, the Renewable Fuels Association (RFA) has released a detailed analysis of where we are today compared to six years ago in the areas of renewable fuels production, economic activity, agricultural impacts, environmental issues, fuel prices, import dependence, and food prices.
"The RFS has indeed lived up to its promise in building out a renewable fuels industry, in reducing dependence on imported petroleum, in stimulating the agricultural economy," says RFA Vice President of Research and Analysis Geoff Cooper, who compiled the analysis from a variety of resources. "At the same time the RFS has simply not had the impacts on the environment and food markets that detractors of the program have claimed."
For example, Cooper says the size of the Gulf hypoxia zone is 27% smaller than it was in 2007. "In fact, last year the hypoxic zone was the smallest it has been in 12 years," he said. Amazon deforestation is down 60% since 2007 and transportation sector CO2 emissions are down more than 10 percent.
When it comes to food prices, Cooper says they have increased about in line with general inflation while some items like milk and eggs are actually cheaper than they were in 2007 – and corn prices are almost the same. "The day President Bush signed this bill into law, corn prices were $4.34 a bushel," said Cooper. The season average price this year is $4.40 per bushel.
Meanwhile, the price for a barrel of oil is up nearly 50% - up to over $108 compared to $72 in 2007.
So, tell us again why we should mess with the RFS?
Read the analysis and listen to the details here: RFA Celebrates Six Years of RFS