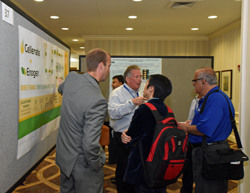 Attendance at the 2016 Corn Utilization Technology Conference is higher than two years ago. The Chair of the committee for this year's conference is Gene Fox, Cargill. I talked with him about the program this year. By the way, this is the 10th CUTC which continues the 20 year tradition of presenting the latest research on corn technology.
Gene has worked with his committee to find sessions and speakers to fulfill the needs of corn growers, companies like Cargill and large food manufacturers. Some key topic areas being addressed include mycotoxins, sustainability, making high end chemicals for manufacturing processes and more. Gene says that he hopes research being displayed here will make it to the commercial market. He also hopes attendees will go home excited about what's going on in the industry including the development of new products.
There are over 40 technical posters on display here from students as well as industry professionals.
You can listen to my full interview with Gene here: Interview with Gene Fox, Cargill
Check out photos from the conference: 2016 CUTC Photo Album