By Chuck
Posted: September 22, 2011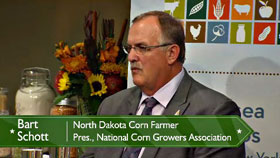 NCGA President, Bart Schott, ND corn grower, was a panelist on today's Food Dialogues, a town hall style discussion via live web stream. Food Dialogues is a project of the U.S. Farmers & Ranchers Alliance (USFRA). Schott is secretary of USFRA.
The panel Schott participated in was held in New York and focused on retaining consumer choices in what they eat and what they pay. The panel explored consumers' need for information at the point of purchase (labeling, restaurant ratings, calories, etc), as well as the safety and health issues related to consumer decision-making and choices. The panelists also discussed the variety of sizes and forms of farming and ranching and its impact on consumer choices made at the checkout counter or when ordering from the menu.
At the beginning of the session, moderator Chef John Besh asked Schott why the price of corn fluctuates so quickly. He says the main driver behind it is the price of oil, the cost of transportation. Other drivers include demand for corn and outside investors buying corn. You can listen to his answer here: Bart Schott Answers Corn Question