By Chuck
Posted: September 27, 2011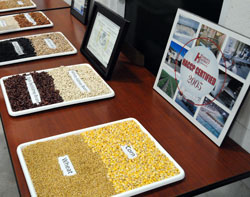 The 2011 IFAJ Congress is the annual meeting of the International Federation of Agricultural Journalists. The program includes multiple farm stops to learn more about agriculture in the host country which this year was Canada. One of our stops was the Hensall District Co-operative. We were welcomed by CEO, Earl Wagner, who gave us an overview of the various business units of the co-operative. The photo shows a display of the types of commodities grown by members and marketed by HDC.

HDC is a diversified farmer-owned Ontario Agricultural Co-operative. Established in 1937, HDC is the largest independent agricultural co-operative in Ontario with 4000 members who elect 10 Board of Directors. HDC employs 300 staff members with annual sales of 328 million.

According to Earl, the crop this year was impacted by weather so that yields are going to be down significantly but still much higher than even recent years. Last year was apparently a record crop in Canada.
One of our group asked him if HDC had gotten into the ethanol production business and he said that they have not. However, they did sell some land a few years ago to GreenField Ethanol who intended to build a plant but to date hasn't done so. HDC does sell corn and Earl says that the demand for corn for ethanol production has been a good thing. You can listen to my interview with Earl here: Interview with Earl Wagner